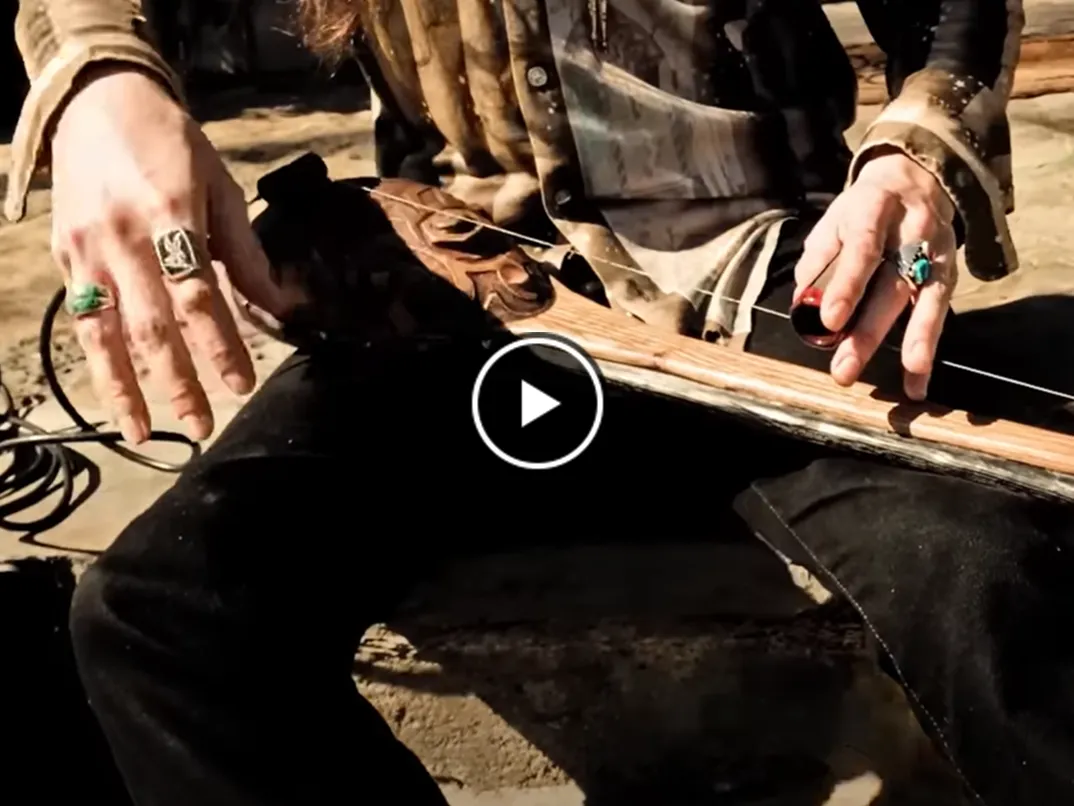 Son House's "Grinnin'n in your face" played on one-string -diddley bow
Information about this video below:
Definitely feelin the luck o' the Irish that this incredible handmade wood & ceramic diddley bow made the trip from Belfast on the shores of sunny Ireland, only to arrive here in Nashville on St Patrick's Day!!
Just pulled 'er out of the box to start slidin some "Grinnin in Your Face" on our front porch… Slainte!
Diddley Bow built by Andrew Cooke: http://andrewcooke.co/

~~
Official Links:
Official Website: www.JustinJohnsonLive.com
Justin Johnson Guitar Instruction: www.RootsMusicSchool.com
Justin Johnson Blog: www.RootsMusicSchool.org
FaceBook Page: www.facebook.com/JustinJohnsonLive
YouTube Channel: www.youtube.com/justinjohnsonlive
Twitter: www.twitter.com/justinjohnson11

Brief Bio
International touring and recording artist Justin Johnson has been hailed by Guitar World as a "must-see act", dubbed "The Wizard" for his mastery of stringed instruments, and recognized as Slidestock International Slide Guitar Champion. He has earned endorsements from guitar builders around the world, published educational books on music theory and technique, and released a series of instructional DVDs.

Justin Johnson Highlights:
•Justin Johnson has toured the world as a performing musician throughout mainland Australia and Tasmania, Europe, The United Kingdom, and coast to coast in North America.
•Justin Johnson's original song "Midnight at the Crossroads," from his 'Smoke & Mirrors' double album, was licensed to Florentine Films for Ken Burns' documentary film "Jackie Robinson," due for release on PBS in April 2016.
•"In the Pines" from 'Smoke & Mirrors' was licensed to ad agency Wieden + Kennedy for the "Dodge Brothers" national ad campaign for Dodge Motor Company.
•"Grinnin in Your Face" from 'Smoke & Mirrors' is featured on NPR Back Porch Music's "Best of Back Porch Music Vol. 18: Old Enough to Know Better" 2015 Compilation Album.
•Justin Johnson is founder of "Roots Music School" in Nashville, TN. Under this umbrella, he has released an Instructional Series currently consisting of 5 DVDs and a book on Roots Music technique and theory. As Roots Music School founder, Justin Johnson has partnered with educators across the country to develop Roots Music curriculum for schools.
•First Place winner of Slidestock International Slide Guitar Championship
•First Place winner of Shakori Hills Grassroots Festival Guitar Competition
Justin Johnson
He is complete anomaly to the modern music scene. Justin Johnson has forged an iron-clad name for himself and developed a worldwide fanbase. All as an independent artist, with no label or industry support whatsoever.
Armed with nothing more than his own signature sound and a desire to connect every day with fans of that sound. Justin has created a Social Media following of well over a million fans.
After touring non-stop for 5 years, playing shows every night of the week, for audiences from 10 to 10,000, and venues from rural dive bars to international festival stages, Johnson sprouted roots in Nashville. He immediately found himself absorbed into the beating heart of Music City. Become in-demand session player, and also frequently collaborating, co-writing songs with, and co-producing albums with country music royalty, John Carter Cash. John named Johnson as one of his favorite current artists.
With his ability to shine in virtually any genre, Justin has shared a stage with a mind-blowing range of musicians, including Kris Kristofferson, Sheryl Crow, Ronnie Dunn, Victor Wooten, Jamey Johnson, The Allman Brothers, Bootsy Collins, Stevie Wonder, Will Lee, and more.
Always innovating and following his own sound while taking inspiration from the past, Justin Johnson blurs the lines between the traditional and the cutting edge, taking current day music back to it's roots while blazing new sonic frontiers. (source: www.justinjohnsonlive.com)
Blues
Blues is a musical genre known as the folklore of African-American musicians. Its origins are associated with the southern states of the USA, that is the region conventionally called the "deep south". The very name of the genre (sadness, despair) is related to its nostalgic form, also in the textual layer. Blues pieces touch male-female relationships as well as feelings and emotions (love, loneliness, faithfulness, jealousy). However, blues performers often sing about freedom, work and travel. The songs also feature social criticism relating mainly to racial inequality and political issues.
Blues is the inspiration for many artists. They are often combine it with other styles. In this way, such musical mergers as punk blues, soul blues or blues rock. The popularity of this genre in the USA has led to the emergence of regional varieties, such as Louisiana, New Orleans, Texas and Detroit blues. There are also factions characteristic of other countries – British blues and African blues.