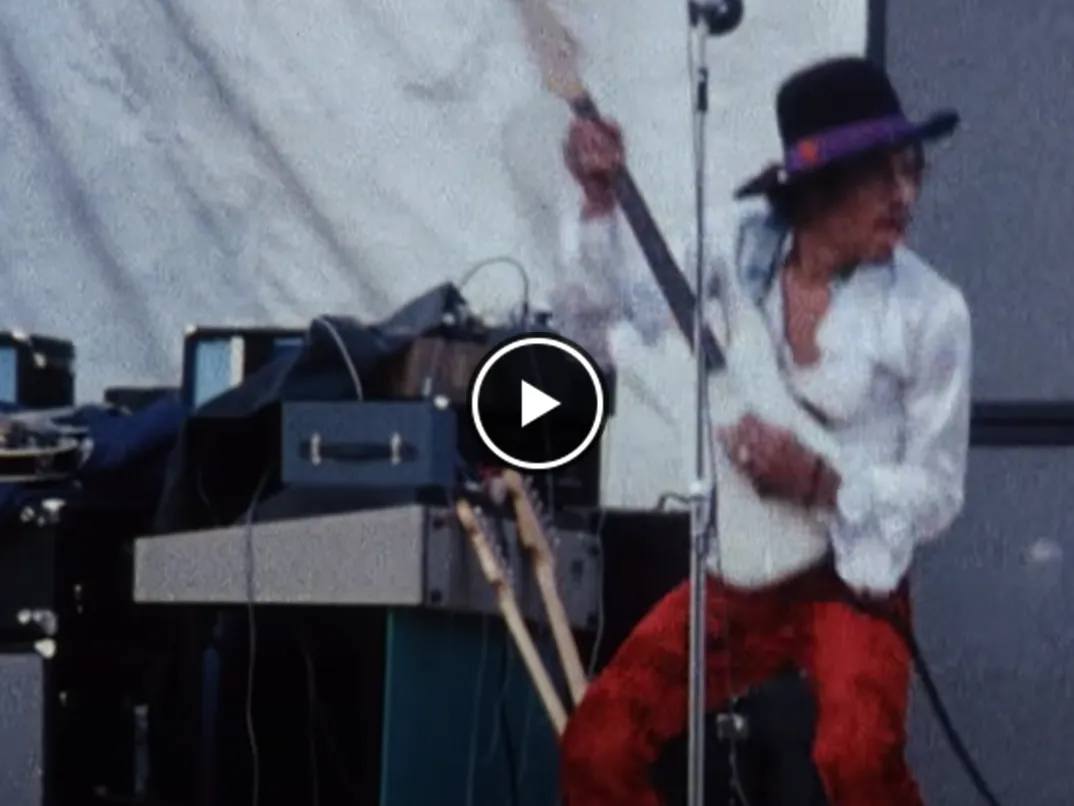 "Foxy Lady" (or alternatively "Foxey Lady") is a song by the Jimi Hendrix Experience. It first appeared on their 1967 debut album Are You Experienced and was later issued as their third single in the U.S. with the alternate spelling. It is one of Hendrix's best-known songs and was frequently performed in concerts throughout his career. Rolling Stone magazine placed the song at number 153 on its list of the "500 Greatest Songs of All Time".
James Marshall Hendrix or Jimi Hendrix – the legendary American guitarist, vocalist, rock composer most often associated with acid-rock and psyched
Hailed by Rolling Stone as the greatest guitarist of all time, Jimi Hendrix was also one of the biggest cultural figures of the Sixties, a psychedelic voodoo child who spewed clouds of distortion and pot smoke.
Although his mainstream career spanned only four years, he is widely regarded as one of the most influential electric guitarists in the history of popular music, and one of the most celebrated musicians of the 20th century.
Jimi Hendrix
Jimi Hendrix, or rather James Marshall Hendrix was born on November 27, 1942, in Seattle, Washington. Under the influence of his father, he enlisted in the army. He was released after a spine injury sustained during a parachute jump.
Hendrix learned to play the guitar himself. Until 1966, he performed in various bands, already then surprising with his perfect guitar playing. In late 1966, thanks to Chas Chandler, bassist of The Animals, who brought him to London, Hendrix formed The Jimi Hendrix Experience, which included Noel Redding – bass guitar and John "Mitch" Mitchell – drums.
The first single, recorded in late 1966, featured Billy Roberts' dramatic ballad "Hey Joe" and was a huge success.
In London, Hendrix befriended Eric Clapton. He is the one who describes Hendrix's first performances: "I think he played a Howlin 'Wolf song or something. He played the guitar with his teeth, put it on the floor, held the guitar behind his head and made other wobbles. It was unbelievable" …
Initially, Hendrix moved to Hyde Park Towers with Chas Chandler, and then to an apartment that previously belonged to … The Beatles – at 34 Montague Square.
The Jimi Hendrix Experience released the second single "Purple Haze" on March 17, 1967, and the third single, "The Wind Cries Mary", was released on May 4, 1967. They all reached the top ten of the UK charts.
In 1969, Hendrix formed a new band called Band of Gypsys. A year later, he joined Eric Burdon and the War group.
On September 18, 1970, after a concert at Ronnie Scott's club in London, Jimi Hendrix at the age of 27 died intoxicated with drugs and alcohol.
The funeral was held on October 1 at Dunlap Baptist Church on Rainier Avenue South in Seattle. A bronze statue of Hendrix stood on the Isle of Wight, the venue of his last concert.
elic rock, blues- and jazz-rock. Hendrix was one of the greatest rock guitarists and instrumentalists in history.
He started his career in the 1960s as a respected studio musician. He has recorded with Little Richard, The Isley Brothers and John Hammond, among others. In 1966, Hendrix went to London, where the Jimi Hendrix Experience band was formed.
A year later, the first album "Are You Experienced?" Was released, which made the guitarist famous all over the world overnight. The album contained 17 tracks, most of which were "Purple Haze", "Foxey Lady", "Hey Joe", "Are You Experienced?" and "The Wind Cries Mary", has become the standard of rock music.
In the next three years, Hendrix released two more albums "Axis: Bold as Love" and "Electric Ladyland". Hendrix's concerts are also history, especially at the Monterey Pop Festival and Woodstock. Hendrix died in London on September 18, 1970 from complications after taking sleeping pills.