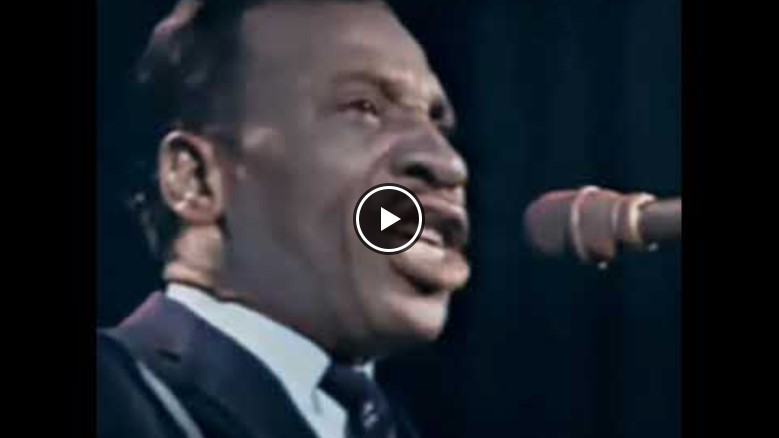 T-Bone Walker
Aaron Thibeaux "T-Bone" Walker (May 28, 1910 – March 16, 1975) was a critically acclaimed American blues guitarist, singer, songwriter and multi-instrumentalist, who was an influential pioneer and innovator of the jump blues and electric blues sound. In 2011, Rolling Stone magazine ranked him at number 67 on their list of "The 100 Greatest Guitarists of All Time".
Walker was posthumously inducted into the Blues Hall of Fame in 1980, and into the Rock and Roll Hall of Fame in 1987.
Chuck Berry named Walker and Louis Jordan as his main influences. B.B. King cites hearing Walker's "Stormy Monday" record as his inspiration for getting an electric guitar. Walker was admired by Jimi Hendrix who imitated Walker's trick of playing the guitar with his teeth. "Stormy Monday" was a favorite live number for The Allman Brothers Band.
As well as being a remarkable musician, Walker was one of the great showmen. Even in the Forties, he would perform stage acrobatics such as the splits. Walker did almost everything that Jimi Hendrix did later, from exploiting feedback to playing the guitar behind his back to playing his guitar with his teeth.
Listen afresh and you will hear Walker had a sound and playing style all his own; unique phrasing with smooth and melodic staccato runs. He played solos that brought the guitar out of its role as an accompanying, rhythm-oriented instrument. He was one of the first musicians who proved that a guitar could go head-to-head with brass, pianos, and woodwinds as a legitimate solo instrument.
T-Bone Walker's single-string solos influenced blues players like B.B. King and such rockers as Eric Clapton and Stevie Ray Vaughan.
As Pete Welding wrote:
T-Bone Walker is the fundamental source of the modern urban style of playing and singing the blues. The blues was different before he came onto the scene, and it hasn't been the same since.
(source: wikipedia, rockhall.com, telegraph.co.uk)