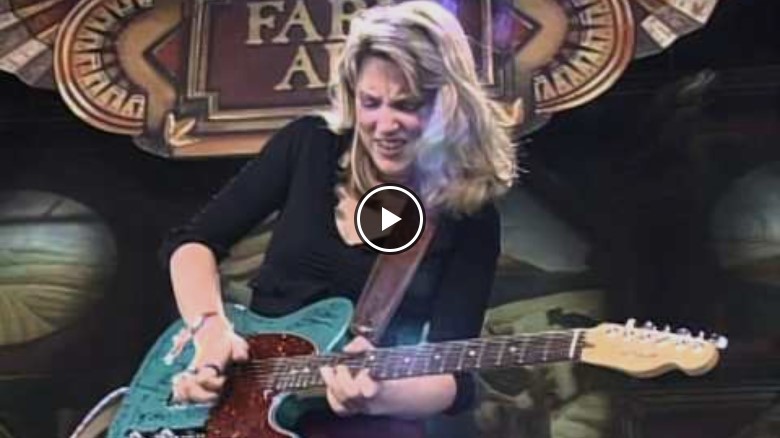 Susan Tedeschi performs "Just Won't Burn" at the Farm Aid concert in Bristow, Virginia on September 12, 1999.
Farm Aid was started by Willie Nelson, Neil Young and John Mellencamp in 1985 to keep family farmers on the land and has worked since then to make sure everyone has access to good food from family farmers. Dave Matthews joined Farm Aid's board of directors in 2001.
For more information about Farm Aid, visit: http://farmaid.org/youtube
Farm Aid's performances are donated by the artists in order to raise funds and raise awareness for family farmers. They've raised their voices to help — what can you do?
Susan Tedeschi
She is a singer and guitarist, a multiple Grammy Award nominee, also a member of the Tedeschi Trucks Band. Tedeschi made her public debut as a six-year-old understudy in a Broadway musical. After graduating from Norwell High School, Tedeschi attended the Berklee College of Music, where she sang in a Gospel choir. She performed show tunes on the Spirit of Boston and received her Bachelor of Music degree in musical composition and performance at age 20.
Tedeschi formed the Susan Tedeschi Band in 1993. She learned how to play blues guitar in Boston from musician Tim Gearan in 1995. Eventually, Tedeschi was opening for John Mellencamp, B.B. King, Buddy Guy, The Allman Brothers Band, Taj Mahal, and Bob Dylan. In 2000, Just Won't Burn (1998) reached Gold record status for sales of 500,000 in the United States, rare for a blues production. She recorded two tracks with Double Trouble band members Chris Layton and Tommy Shannon for their album. In 2010, Tedeschi and Trucks announced a hiatus for their solo bands and formed a new group called Tedeschi Trucks Band. The group performed at a number of festivals including Eric Clapton's Crossroads Guitar Festival, Fuji Rock Festival, and others. (source: https://en.wikipedia.org/wiki/Susan_Tedeschi)
Discography
As leader or co-leader
Better Days (Oarfin, 1995)
Just Won't Burn (Tone Cool, 1998)
Wait for Me (Tone Cool, 2002)
Live from Austin, TX (New West, 2004)
Hope and Desire (Verve Forecast, 2005)
Back to the River (Verve Forecast, 2008)
With the Tedeschi Trucks Band
Revelator (Masterworks, 2011)
Everybody's Talkin' (Masterworks, 2012)
Made Up Mind