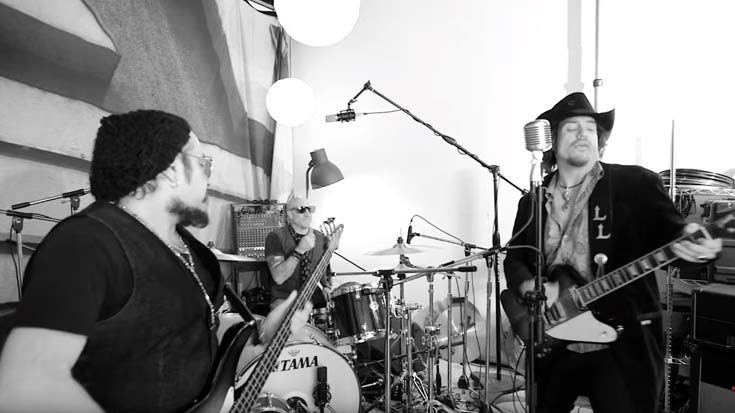 Supersonic Blues Machine
Supersonic Blues Machine is a new, electrifying name on the blues map of the world. However, the band was not created by novices. Fabrizio Grossi, bassist, producer, sound engineer, and songwriter is a true globetrotter who has resided in London, Canada, New York and now live in Los Angeles.
It happened in 2012, Texan guitarist-singer-songwriter Lance Lopez was planning a visit to Los Angeles to record a new album and producer Fabrizio Grossi suggested they hook up and work on some ideas. The following whirlwind day and a half in the studio resulted in three songs which became the foundation of an exciting new project before they knew it. "Lance is incredible" Fabrizio asserts "I can show him any melody line I want, but that guy ends up putting his bluesy mark on anything, he was born with the blues. It's so natural for him."

With a prolific career as a producer, mixer and bass player Fabrizio has worked with some of the finest musicians around today pulling into an array of eclectic styles, from Steve Vai to Tina Arena, Nina Hagen to Alice Cooper as well as Glenn Hughes, Dave Navarro, George Clinton, Joe Bonamassa, Leslie West, Zakk Wylde, Ice T, Slash and Paul Stanley to name a few.

With this huge foundation of friends you are on an ever learning curve and with this, a network of contacts brings with it both enhanced abilities and a blossoming reputation. Before Supersonic Blues Machine even existed as it is, the seeds began to be seen from a hook up with Billy F. Gibbons, "I was telling Billy about my work with Lance" explains Fabrizio before excitedly adding the ZZ Top legends response was "'Oh, you know Lance? He's fantastic, I've known him since he was a little kid'" and he went on to say that the two should seriously consider working on something together.
Official video for Supersonic Blues Machine's track 'Remedy' featuring Warren Haynes.
'Remedy' is taken from Supersonic Blues Machine's debut album "West of Flushing, South of Frisco" which is available on CD & Vinyl here:
Amazon: https://amzn.to/24T7chM