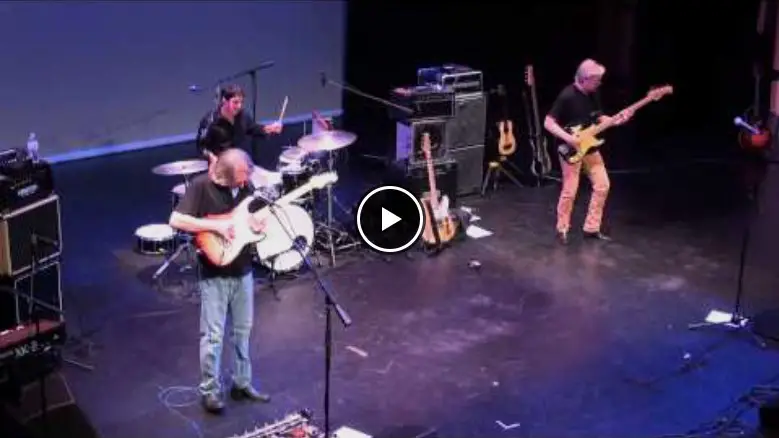 AcA's Louisiana Crossroads 2015 in Lafayette, Louisiana featuring Sonny Landreth & Friends.
Sonny Landreth
Sonny Landreth was born in Canton, Mississippi, but his music has shaped the culture of Louisiana. February 1, 1951, when he came into the world, America experienced an economic boom. Prior to enterprising Southerners world stood open. Canton quickly became too small for his father Sonny. When the children were growing up, he moved with his family to Jackson, and later on, to Louisiana. They lived in Lafayette, two hours from New Orleans.
"It was a providential step – recalled many years later, Sonny – you have no idea how many times I thanked my dad that brought us here."
Louisiana, where he grew up Sonny was a real cultural melting pot. Culture Creoles met here with the traditions of Spanish and English-speaking settlers and immigrants from the Caribbean. New Orleans radiated jazz and blues piano, in the south, flourished cajun and zydeco. Sonny absorbed them all. "I've always loved music – says – my older brother brought home tons of plates. We listened to Elvis Presley, Scotty Moore, Wes Montgomery, and Chet Atkins. "
Lafayette classical music
At the school in Lafayette classical music intertwined with jazz. At age 10, Sonny began to learn to play the trumpet, after a few years but dropped it for an electric guitar. "Learning to play the trumpet was my future a lot to give – says – playing a wind instrument forces a different approach to the phrase – in front of each of them you have to pause to take a breath. Similarly phrasing today Robben Ford, and he began as a child of a saxophone … For me, it is applied to the New Orleans even less syncopal. My game is a version of guitar music played on a washboard. "
Sonny was 13 years old when he discovered the music of Chet Atkins, a country guitarist white inspired by the style of Django Reinhardt. "Chet treated guitar as a solo instrument, was coming from it at the same time the melody, rhythm, and bass line. His style has inspired me for years "- he recalls. At one school dance met a year younger Dave Ranson, his future bassist, and longtime friend. "I and Dave were inseparable. Exchanged plates jamowaliśmy in blues clubs, listening to Clapton and Jimi Hendrix, and in the summer dorabialiśmy in a music store. All the kids from Lafayette dreamed to work there, "- he recalls.
Sonny Landreth – King of Zydeco
Although peers Sonny Landreth listened to rock'n'roll, he and Ranson went in a different direction. "In high school, I discovered B.B. King and the great guitarist's Delta – Sonny told a reporter from the Los Angeles Times – I can not express how great impression made on me guitar blues. I have not seen the slides on my eyes only read about it, but his melodious, close vocal tone and richness of sound literally blew me away. " "When I brought home slide, I had no idea how to play it, do not even know which finger to wear it – he adds – I tried and tried until I was able to extract sounds close to those of the records."
Blues was to become the foundation of music Sonny Landreth, but he took it to the stage. "I was 16 or 17 years, when a small, funky club I first heard Clifton Chenier, the King of Zydeco – Sonny recalls in an interview with Sante Fe New Mexican – Dave and I were the only white in the room. After the performance, Clifton invited me on stage. That moment changed my whole life. "
Soon after Sonny joined Chenier, experimenting with the sounds of big-city soul, blues, and R & B. He was the first white musician to play in the Red Hot Louisiana Band, but Clifton chose it not only because of the color of the skin. Sonny was going to be an excellent guitarist. Fascinated by the music of Robert Johnson joined playing slide with a finger-picking in Chet Atkins style, laying the foundation after your own original technology, which has become famous in the future on the stage. Music, which played Chenier was not foreign to him. "These rhythms lived all Louisiana – he explains – we absorb them by osmosis, enough to pour it on violin, accordion or tare, and then go further, towards new ideas and sounds …"
"I started from Delta – he adds – by Sam Charters, Robert Palmer, and Mississippi John Hurt got to Elmore [James] and electric blues. And later, in the 1970s, I heard in Lafayette Duane Allman. I already knew what I wanted to do. "
Landreth worried about his son's future. To reassure them Sonny enrolled to study music at the University of Lafayette. He lasted two years. "Studies were done me good, really good – I say today – but chose to have his way. I wanted to play the blues and to play it, I had to reject a lot of what I was taught at the academy. " In 1971, Sonny threw studies and together with Dave Ranson went to Colorado. In autumn they returned to Louisiana and founded his own band. They started with Allman's style blues-rock, but Sonny was insatiable. "Then I discovered Lowell [Fullson], its wonderful, long, single notes and phrasing – says – this guy was a genius. Everything he did – his singing, plays, songs, and production – was brilliant. I listened to him as God, and I tried to absorb as much of his music. "
Sonny admired, but not copied. "Each of the musicians, which I loved – he said – has its own unique sound. Guitars, pickups, preamps, amplifiers, all just a toy. The most important is its own tone, its own sound and it to him from the beginning … I strove guitar must sing! "
1973 and 1977 years
In the first half of the 70s music of Sonny interested in Columbia. Label but had no idea of promotion boards and recordings from 1973 and 1977 years – spreading today like hot cakes – lain on the shelf for nearly three decades. A milestone in the career Sonny was a meeting with Eric Johnson. Under his influence Landreth in 1979, he returned to the formula of trios, assuming David Ransom and Gregg Morrow team Bayou Rhythm (later renamed The goners), he also realized how great is its unique style of play. He focused on perfecting the playing "under" Slide, allowing the strings biased to the threshold of three fingers glide under glass and combined with the sound of the strings pressed worn on the little finger slide. The guitar was for him always a very strong vocal dimension, and the connection slide with the technique of finger-picking allowed out of the instrument "heavenly overtones and thundering, lightning harmonies." "The combination of" ghost notes "and sounds extracted slide turned out to be totally unbelievable, expanded opportunities slide guitar more than I could have imagined," – he recalls.
In the early '80s, Sonny Landreth starts working for its own release. His debut album – firmly rooted in the tradition of "Blues Attack" recorded with Bayou Rhythms – was released in 1981, for the local label Blues Unlimited. Although the album went almost unnoticed, another – released in 1986 "Down in Louisiana," attracted the attention of producers from Nashville. Sonny – already close to abandoning music after seven years of playing in bars – toured with folk-rock guitarist and singer John Hiatt, also invited him to record with John Mayall.
The 80 mainly work in the studio. Sonny Landreth has become a sought-after session musician, accompanied by Junior Wells, Mark Knopfler, Beausoleil, Mayall, and Riley. The album "Slow Turning" recorded with Hiatt proved so successful that Landreth interested in the label Zoo / Praxis. Released in 1992, "Outward Bound" finally broke the charts.
Subsequent albums Sonny – with recorded with Mark Knopfler "South of I-10" (1995) and "Levee Town" (2000) at the head – already have gone far beyond the traditional frames, experimenting with the Cajun and southern rock. In the past two decades, this gave them a total of eleven (including previously unreleased recordings from 1973 and 1977) and appeared on dozens of albums, Jimmy Buffett, John Hiatt, and Eric Johnson.
Our quality blues t-shirts are perfect for your next music festival, concert or jam, and make great gifts.