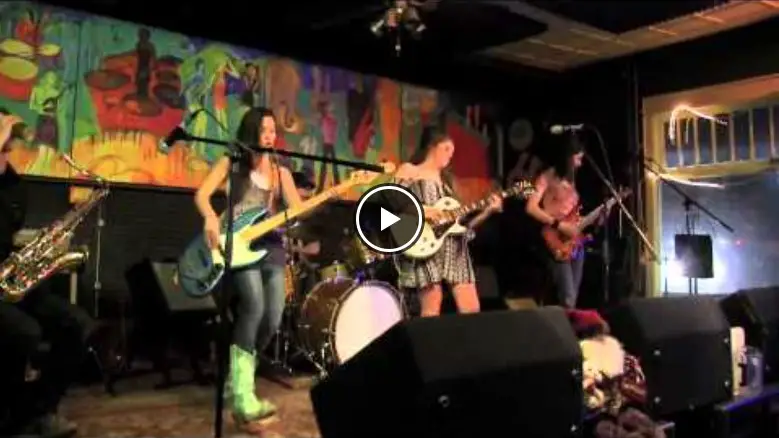 The Sad Sam Blues Jam
The group is based out of Bloomington, Indiana. The four piece features sister act Sadie (lead guitar and vocals) and Sam Johnson (bass) up front, alongside Krista Hess (guitar) and Matt McCarthy (drums).
For the Sad Sam Blues Jam, an Indiana band featuring three female members younger than 20, it's still fairly common to play in front of skeptical crowds.

And winning over doubters hasn't lost its thrill.

"You'll come out with a killer song, and people can't even dance," vocalist-guitarist Sadie Johnson said. "They're just sitting there, like, 'What is this?' "

Fellow vocalist-guitarist Krista Hess said the "What is this?" sensation can arrive before a show even begins.

"People see a bunch of teenage girls setting up," Hess said. "They're expecting something frivolous or shallow. I feel like we have to prove ourselves every time we play a new venue. We have to move them and show them." Read More…
Blues Music
Blues is a musical genre known as the folklore of African-American musicians. Its origins are associated with the southern states of the USA, that is the region conventionally called the "deep south". The very name of the genre (sadness, despair) is related to its nostalgic form, also in the textual layer. Blues pieces touch male-female relationships as well as feelings and emotions (love, loneliness, faithfulness, jealousy). However, blues performers often sing about freedom, work and travel. The songs also feature social criticism relating mainly to racial inequality and political issues.
Many artists are inspired by blues music and combine it with other styles. In this way, such musical mergers as punk blues, soul blues or blues rock. The popularity of this genre in the USA has led to the emergence of regional varieties, such as Louisiana, New Orleans, Texas and Detroit blues. There are also factions characteristic of other countries – British blues and African blues.