The Rogue Classic Spider Resonator guitar is a fantastic resonator guitar for someone who begin their adventure with these types of guitars, but also for multi-instrumentalist musicians who want to enrich their sound. The great wood body and conventional design have allowed this guitar to remain as a top seller for many years. Guitarists love it because it's comfortable and have surprisingly good sound for the price.
The features don't stop with just very nice fit and finish. The Rogue Classic Spider Resonator is also louder than many more expensive instruments. Not to mention it is a fine guitar that you can upgrade and turn it into first-rate instrument that will have tone and sustain like the very best.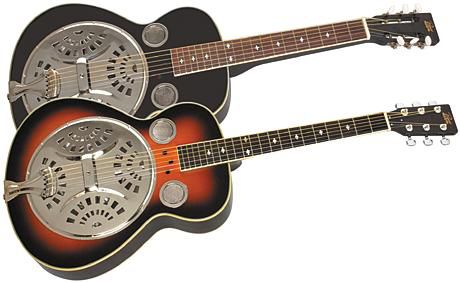 Wood body and traditional shape for fantastic tone.
The die-cast spider bridge and 10-1/2″ spun aluminum resonator cone give it exceptional projection and volume. Constructed with a spruce top; mahogany back, sides, and neck; and rosewood fretboard. Mother-of-pearl diamond fretboard inlays, a chromeplated bell, and brass coverplate and tailpiece give it authentic looks.
Guitar Reviews
"I've had it for 2 weeks now & played it almost every day and the sound is just great!I've played bottle neck Blues for many years on an old acoustic that I setup just for that so this is my 1st resonator,what a pleasant surprise!This guitar looks and sounds as good as any of them,for the price it's great buy!I've changed the strings on it to Martin 12's to suit my playing style.I use a glass slide & tune to open D or G, seems to work out well for me.Now I can play my favorite John Hammond songs and sound just like the record.If you're into Delta Blues I highly recommend this guitar!"

"I really had no question about what I was purchasing. A friend of mine has one just like it so I knew what I was getting. It is what I expected and I am very pleased with it. It has a great sound, appearance the only thing missing would be myself knowing how to play it correctly as of yet. I am working on the finger picking and that is what is hard for me."

"I bought this guitar after my new found love of Delta Blues. When I received it, I immediately tuned it up and started jammin. I was very disappointed at first. I had a buzz at the bridge on about 3 strings, and my top (lowest) string couldn't stay tuned to a "D". Being the avid DIY'er that I am, I disassembled the cone (jeweler's screwdrivers are awesome here), and found one part of the split saddle extremely loose. So I glued it and reassembled the cone. Then, I took apart the triangle cover piece on the head and decided to put a little tension on the truss rod. I figured that being the new guitar it was, it was probably shipped without any tension. Sure enough, it didn't have a lick of tension on it. So I turned it until I felt slight tension, and then turned it another 1/4 turned for good measure. I put the strings back on and sure enough, sounds phenomenal. Haven't been able to put it down since!"

"I would only buy a Rogue resonator, for one it's an unbeatable price and two, it's a great quality guitar. Depending on what sound you're aiming for, you may want to immediately change the strings but there's really not a bad thing I have to say about this resonator."
Specification of Rogue Classic Spider Resonator
– Roundneck or squareneck
– Spruce top
– Mahogany back and sides
– Die-cast spider bridge
– Mother-of-pearl diamond position marker
– 10-1/2″ spun aluminum resonator
– Chromeplated bell
– Brass coverplate and tailpiece
– Rosewood fretboard
More reviews
"I have owned several guitars over time and when this one came in the mail, I was absolutely floored! For the money I paid I feel like I stoled it! I recently started playing Delta blues and this guitar has made me sound 100 times better. If you want a VERY nice resonator guitar, for very little money…stop here!"
"I wanted a resonator, but didn't want to make a huge investment on what for me was a venture into a new style/sound of guitar. Hey, at this price point I had some concerns, but the guitar had really good reviews. Bottom line: built well, looks great, sounds great. If you want to try a resonator this is the way to go."
In summary, I would highly recommend the Rogue Classic Spider Resonator. Traditional shape, great tone and the lowest price make it a no brainer.