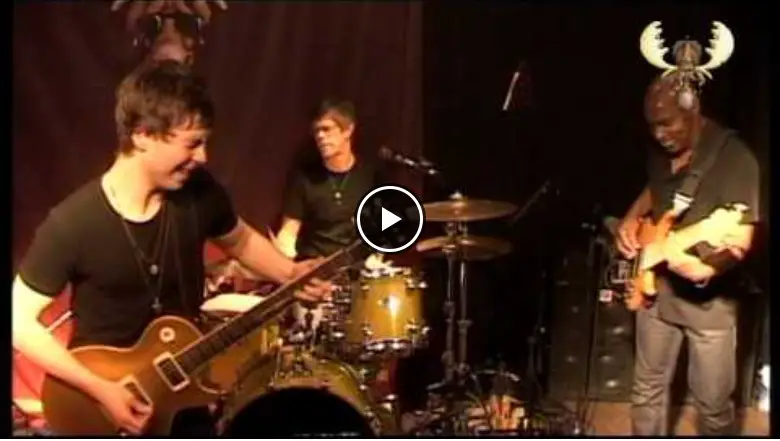 Click Here to get Take Me High by Laurence Jones Now: http://ilovebluesguitar.com/TakeMeHigh
Laurence Jones – Thunder in the Sky – Live at Bluesmoose Café specially recorded for Bluesmoose radio 28-01-2015
http://www.bluesmoose.nl
http://www.laurencejonesmusic.com
Laurence Jones – Guitar/Vocals
Mirri Mietinen – Drums
Roger Inniss – Bass
Live at Cafe bar de Comm- Netherlands
Soundengineer Bluesmoose – Piet Buitendijk – Roland Coenen – Wim Slebus
Camera's — Eric Jacobs – Dylan – Danny Toonen
Regie: Rob van Elst –
Laurence Jones
This only twenty-four coming from the UK blues-rock guitarist with a child's face breaks into a hurricane on the biggest festival scene and the charts on both sides of the Atlantic, and by critics and industry press has been hailed as the hope and future of blues. You have to remember this name because Laurence Jones just getting started!
He's the recipient of several major awards. He's sold serious numbers of his three solo albums, and there's a fourth on its way – produced by legendary producer Mike Vernon. He's not practicing. It's not a rehearsal. He's deadly serious and damn good at what he does.
Hailed as 'one to watch' as a teenager by the blues media, concert/festival bookers, blues fans and various guitar stars alike, young Laurence really has come of age. The blues club has become a man with a plan. Turning heads and making jaws drop with his take-no-prisoners, incendiary live set and his stunning records.
Laurence and his band – Laurence Jones on vocals and guitars, Bennett Holland on keyboards, Greg Smith on bass and Phil Wilson on drums – put the power into their modern day blues rock with an edge. He sings, he plays and he writes – a triple threat – and he does so like a veteran of three times his age. But absolutely no ego. His feet firmly on the ground.
You can tell that by the Cheshire cat grin glued to his face during every gig. He lives to play that guitar. He loves to play that guitar. He just has to play that guitar…
(via www.exeterphoenix.org.uk)
Blues is a musical genre known as the folklore of African-American musicians. Its origins are associated with the southern states of the USA, that is the region conventionally called the "deep south". The very name of the genre (sadness, despair) is related to its nostalgic form, also in the textual layer. Blues pieces touch male-female relationships as well as feelings and emotions (love, loneliness, faithfulness, jealousy). However, blues performers often sing about freedom, work and travel. The songs also feature social criticism relating mainly to racial inequality and political issues.
Many artists are inspired by blues music and combine it with other styles. In this way, such musical mergers as punk blues, soul blues or blues rock. The popularity of this genre in the USA has led to the emergence of regional varieties, such as Louisiana, New Orleans, Texas and Detroit blues. There are also factions characteristic of other countries – British blues and African blues.