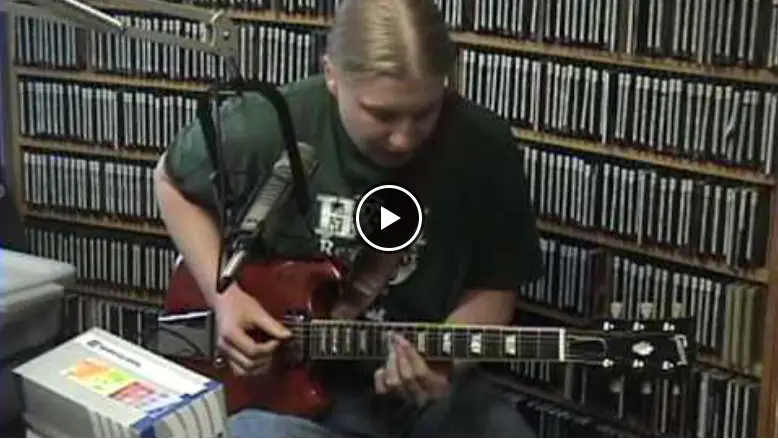 Derek Trucks
Derek Trucks is called the best "slide" in the world. His artistry can be compared to the play of late Duane Allman. This comparison is not accidental – in 1999, Trucks joined THE ALLMAN BROTHERS BAND. You have to be really good to play with Warren Haynes at the age of 19 – without any complexes!
Derek began his adventure with the guitar at the age of 9. He bought an instrument for five dollars, suggesting his nice look. The jokes are over. When he was 11, he played for the first paid gigs with the bluesmen from Atlanta. His father helped him set up his own band and from that moment things went downhill. Derek was so devoted to the playing that he had to finish the school individually between subsequent trips.
Derek Trucks is a talent born once in many years. He did a lot to develop blues music from which he "went out" and to move the listener to completely different music regions. He draws from tradition but looks to the future.
Derek Trucks
Derek learned to play the acoustic guitar from the age of nine. He started playing professionally at the age of 11 in The Allman Brothers Band. In the mid-90s, he founded the Derek Truck Band. He has performed with Susan Tedeschi, whom he married in 2001. He has recorded with Frogwings, Buddy Guy and McCoy Tyner.
Ranked 16th on Rolling Stone's 2011 List of 100 Greatest Guitarists of All Time.
Derek is a winner of a Grammy Award, he is a member of The Allman Brothers Band, in addition to owning his own band. He is considered to be one of the most inspired slide guitar players today.
He began to stand out as a guitarist at a very young age, and by the age of 12 he had already worked with some of the great names in American music, such as Buddy Guy or The Allman Brothers Band. With the latter, he toured for several years before becoming an official member of the band in 1999. That same year he met blues singer Susan Tedeschi, whom he married two years later.
The Tedeschi Trucks Band
The Tedeschi Trucks Band was founded in 2010 after Derek Trucks and Susan Tedeschi decided to merge their respective bands, to spend more time together with their children and work together in their home recording studio. Derek Trucks and Susan Tedeschi had toured together in 2007 under the name Derek Trucks & Susan Tedeschi's Soul Stew Revival with songs from their solo careers, while the Tedeschi Trucks Band has focused on playing original songs.
In late 2009, after announcing a break from the Derek Trucks Band and Susan Tedeschi Band. The couple began composing new material, working in their Jacksonville home studio with musicians who were close friends. Their first concert took place on April 1, 2010 at the Savannah Music Festival and afterward the group played at Eric Clapton's Crossroads Guitar Festival, the Fuji Rock Festival and other festivals and concerts.