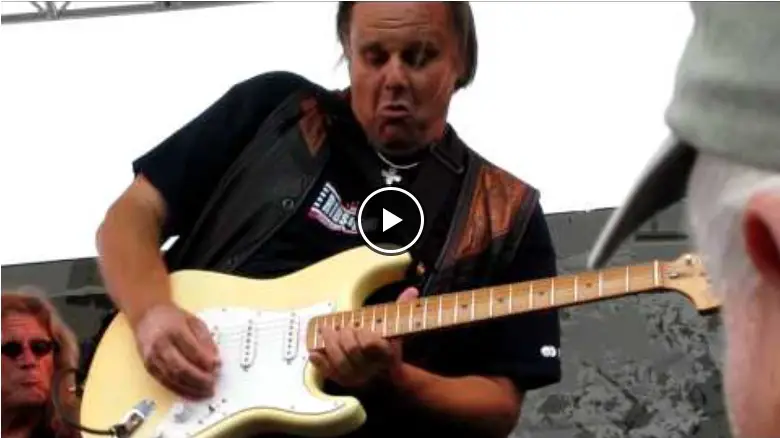 On a cloudy and wet day on July 2nd, 2010, Walter Trout and his band come out and kicks ass at the 2010 Portland Waterfront Blues Festival, presented by First Tech Credit Union.
Walter Trout – Guitar and lead vocals
Sammy Avila – Hammond B3 and backup vocals
Rick Knapp – Bass
Michael Leasure – Drums and backup vocals
Walter Trout
Trout founded his own solo band in 1989 and cut his debut album 'Life In The Jungle' that same year. He rapidly becoming a chart-topping star in Europe. His first stateside release, 1998's critically heralded 'Walter Trout,'. It made him a fixture of the US blues-rock scene. Released in 2015, 'Battle Scars' is his 18th album on the Netherlands-based Provogue label, and his 42nd overall, including pre-solo recordings with Canned Heat and the Bluesbreakers.
Over the decades, Trout has accumulated numerous honors. He is a three-time winner of the Overseas Artist Of The Year title at the British Blues Awards, and a three-time Blues Music Awards nominee. In 2015, he won the Sena European Guitar Award, an honor he shares with acclaimed past winners like Brian May, Steve Lukather and Slash. Trout's six-string prowess also earned him the #6 slot in BBC Radio 1's Top 20 Guitarist listeners' poll.
Albums
1989 Life in the Jungle (re-released in US in 2002)
1990 Prisoner of a Dream
1992 Transition
1992 No More Fish Jokes (live album)
1994 Tellin' Stories
1995 Breaking The Rules
1996 Jimi Hendrix Music Festival (Janblues)
1997 Positively Beale St.
1998 Walter Trout (same tracks as Positively Beale St.)
1999 Livin' Every Day
2000 Face The Music (Live on Tour)
2000 Live Trout
2001 Go The Distance
2001 Go The Distance
2003 Relentless
2005 Deep Trout: The Early Years of Walter Trout
2006 Full Circle (featuring guest artists)
2007 Hardcore (self released recording of the 'Power Trio' playing live in Europe)
2008 The Outsider
2009 Unspoiled By Progress: 20 Years of Hardcore Blues (previously unreleased tracks and three new songs)
2010 Common Ground
2012 Blues For The Modern Daze
2013 Luther's Blues
2014 The Blues Came Callin
2015 Battle Scars
2016 Alive In Amsterdam
2017 We're All In This Together
2019 Survivor Blues
2020 Ordinary Madness