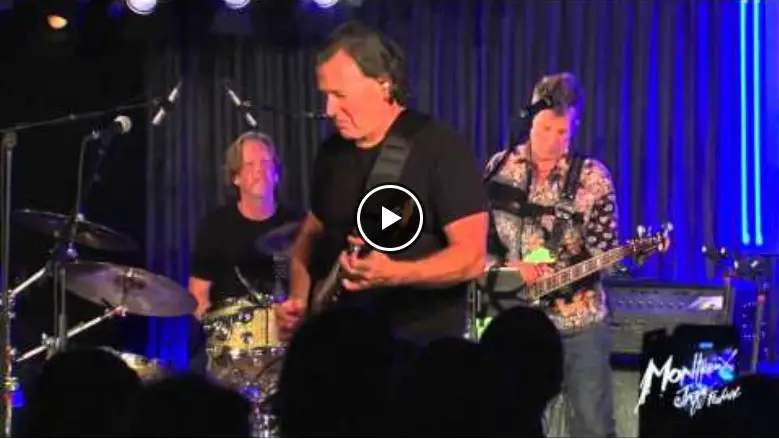 Tommy Castro – Serves Me Right To Suffer
Tommy Castro: guitars & vocals,
Randy McDonald: bass,
James Pace: keyboards,
Bowen Brown: drums.
Tommy Castro is an American blues, R&B and rock guitarist and singer. He has been recording since the mid-1990s. Born in San Jose, California in 1955, Tommy Castro first picked up a guitar at age 10. According to all the press and hype and hoopla for a time during the 1990s, Tommy Castro was pegged as the next big star of the blues.
His music has taken him from local stages to national and international touring. His music sits squarely at the center of an evolving tradition of rock and blues.
In 2001 and 2002, B.B. King asked Castro to open his summer concert tours. Castro received an open invitation to join King on stage for the nightly finale.
In May 2010, The Blues Foundation awarded Castro multiple Blues Music Award honors for Blues Male Artist of the Year, Contemporary Blues Album of the Year, B.B. King Entertainer of the Year, and with his band, Band of the Year.
Albums
1994: No Foolin (Saloon)
1995: Exception to the Rule (Blind Pig)
1997: Can't Keep a Good Man Down (Blind Pig)
1998: Right as Rain (Blind Pig)
2000: Live at the Fillmore (Blind Pig)
2001: Guilty of Love (33rd Street)
2001: Mystic Theater Live promotional EP (33rd Street)
2003: Gratitude (Heart And Soul) – now on Oarfin
2003: The Essential (Janblues)
2003: Triple Trouble (Telarc)
2005: Soul Shaker (Blind Pig)
2007: Painkiller (Blind Pig)
2008: Command Performance: Legendary Rhythm & Blues Revue (Delta Groove)
2009: Hard Believer (Alligator)
2011: Tommy Castro Presents The Legendary Rhythm & Blues Revue! (Alligator)
2013: Greedy/That's All I Got (7″ single) (Alligator)
2014: The Devil You Know (Alligator)
2015: Method To My Madness (Alligator)
2016: The Very Best of Tommy Castro (Blind Pig)
2017: Stompin' Ground (Alligator)
2019: Killin' It Live (Alligator)
2021: Tommy Castro Presents A Bluesman Came To Town (Alligator)
Our quality blues t-shirts are perfect for your next music festival, concert or jam, and make great gifts.