Taj Mahal & Ry Cooder perform "Cornbread, Peas, Black Molasses" from their album, GET ON BOARD, out now on Nonesuch Records: https://amzn.to/3MnQJNO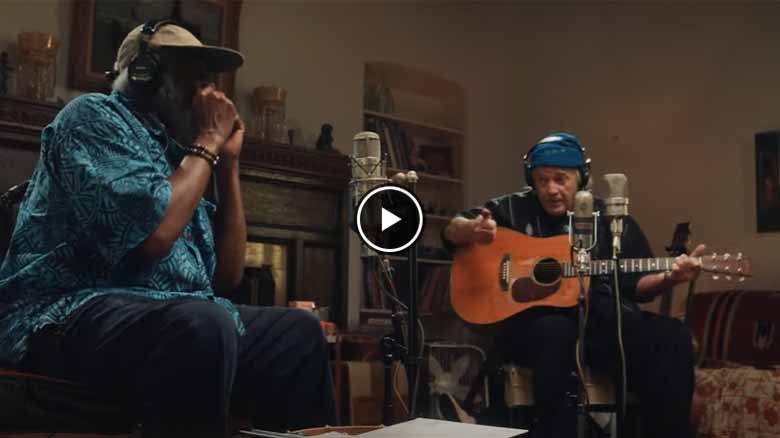 Taj Mahal
Born in Harlem, New York but raised in Springfield, Massachusetts. His father was a jazz pianist, composer, arranger hailing from Jamaica. His mother was a teacher who sang gospel. She came from North Carolina. His grandfather married a woman from Saint Kitts.
He studied agriculture at the University of Massachusetts Amherst in the early 1960s, graduating in 1964. (The same university awarded him the honorary title of Doctor of Fine Arts in 2006). There he founded Taj Mahal & Elektras. The name Taj Mahal was inspired by a dream.
After college, he moved to Los Angeles and founded the Rising Sons group withRy Cooder in 1964. The band signed with Columbia Records and released a single and recorded an album that was not released by Columbia until 1992. Taj, frustrated by mixed feelings about his music, left the band and began a solo career. Still, with Columbia Records, he released an album of his own name in 1968. Building on his success, he released a second Natch'l Blues the same year. The Giant Step two-track set released in 1969 resulted in Taj's strong position as an American blues artist. The title track has become iconic and is still popular with current audiences. Most memorable, however, was the performance of Cooder and Taj at The Rolling Stones Rock and Roll Circus.
His music comes from various sources: blues, cajun, gospel, bluegrass, Hawaiian, African, and Caribbean musical traditions. It sticks to the roots and adds a little bit of its own feeling. Plays many musical instruments.
Ryland Peter "Ry" Cooder
Ry Cooder is, without doubt, one of the most iconic bluesmen of the 20th Century, and that's largely thanks to his distinctive slide guitar technique. He has worked with music legends such as Neil Young, The Rolling Stones and John Lee Hooker, and has proved massively influential in the world of blues music. In fact, he is even credited with introducing Keith Richards to open G tuning which has gone on to become a cornerstone of The Rolling Stones' sound.
A 2003 list published in "Rolling Stone" credits Cooder as the 8th greatest guitar player in the world, and one of the most distinguishing features of his musical style is his versatility. He has been incredibly prolific as a session musician and film soundtrack artist, as well as a performer in his own right. His work can be heard on the soundtrack of iconic, era-defining movies such as "Performance" (which starred Mick Jagger) and 1984's "Paris, Texas", which was directed by legendary European filmmaker Wim Wenders.