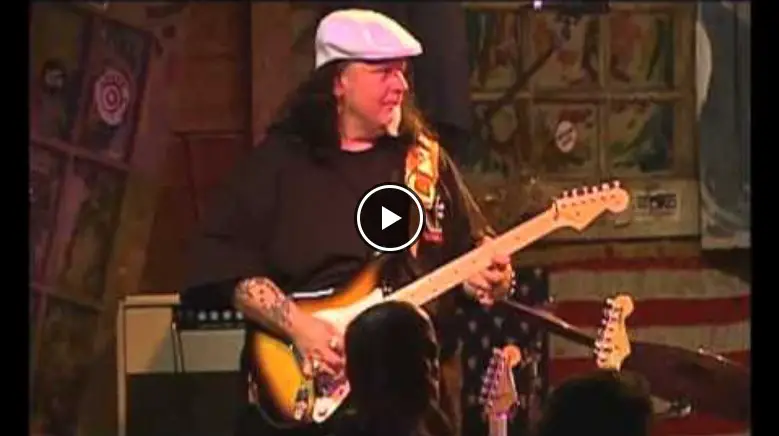 Master Texas blues guitarist Smokin' Joe Kubek died from a heart attack on Sunday, October 11, 2015. He was 58. Kubek, who performed for nearly three decades with his longtime musical partner Bnois King, died shortly before he was to appear on stage at the Pleasure Island Seafood & Blues Festival in North Carolina. Billboard says, "Kubek is one of the fiercest Texas blues guitarists [who] plays blues-rock aimed at the gut level." Living Blues describes his music as "heavy, powerful and tough roadhouse blues, punchy Texas shuffles, and mighty fine roots rock."
Smokin' Joe Kubek was born in Pennsylvania in on November 30, 1956 but grew up just outside of Dallas. He was leading his own bands and gigging in clubs all around Dallas when he was only 14. He first heard blues by listening to Eric Clapton and Jeff Beck, Kubek soon discovered the music of Muddy Waters, Howlin' Wolf and other early masters including Freddie King, Johnny Copeland and Lightnin' Hopkins. By the time he was 19, he was backing many famous blues players in the area, including Freddie King. In 1976, Kubek was about to head out on tour with King when King died suddenly of a heart attack.
Kubek next worked with R&B singer Al "TNT" Braggs and made a host of new friends, including Albert King, Stevie Ray Vaughan (with whom Kubek became close), B.B. King and many other blues icons. He often found himself jamming with these larger-than-life blues stars, while playing constantly around the Dallas area. He not only learned tips and techniques, but also soaked up stories and lessons of being a professional touring musician. One night, he even had the chance to play B.B.'s guitar, Lucille. "B.B. admired my enthusiasm and he encouraged me, which really meant a lot. When times got hard, I always remembered how B.B. King had given me some encouragement."
In 1989, Kubek met guitarist/vocalist Bnois King at a Monday night Dallas jam session. The two became fast friends, and melded their seemingly divergent styles — Kubek a rocking and fierce picker and slider, King a subtle, fat-chord rhythm player whose solos are spontaneous and unpredictable — into one of the most potent guitar combinations the Southwest had ever produced. Kubek explains the relationship succinctly: "I pull the blues out of him, and he pulls the jazz out of me. Bnois knows so much about jazz it's amazing. Bnois fires me up. We are constantly pushing each other higher, complimenting each other's solos. But it's not planned. We never know what we're going to do until it's done."
Kubek and King signed to Bullseye Blues and released their debut CD, Stepping Out Texas Style, in 1991. After conquering the Dallas scene, the band began touring clubs, concert halls and festivals nationally and internationally. Following a successful series of eight Bullseye releases, they signed to Blind Pig Records in 2003. As their popularity continued to build on the strength of their recordings and the energy of their live shows, the band's touring schedule grew to over 150 dates per year all across the United States, Canada and Europe (where they have toured more than a dozen times), solidifying their place in the blues world with one jaw-dropping show after another.
Kubek and King signed with Alligator in 2008 and released Blood Brothers and followed up with Have Blues, Will Travel in 2010. They released four more albums after leaving Alligator and continued to tour non-stop. Their latest CD, Fat Man's Shine Parlor (Blind Pig), came out in February, 2015. (source: LivingBlues, Alligator Records)