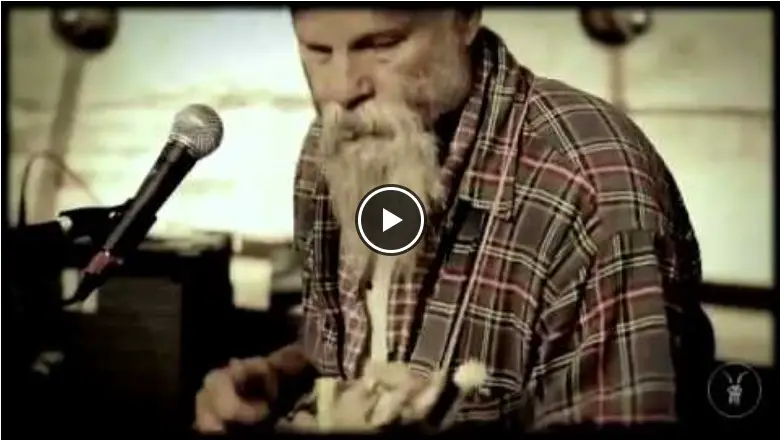 Seasick Steve basement session playing "Don't Know Why She Loves Me But She Do" on cigarbox guitar.
Seasick Steve
Steve is living proof that your big break can come at any age. Born Steven Gene Wold in Oakland, California in 1941 – yes, 1941 – Steve has spent his life in transit: he's been everything from a hobo to a record producer. But he never strayed far from music.
Kicked out of his family home at the age of 14, Steve became a genuine hobo, hopping freights all over America. Always traveling with his guitar – having been taught a few chords as a kid by Delta bluesman KC Douglas, an old pal of the legendary Tommy Johnson – in the '60s he began to play at clubs on the West Coast and supported Son House among others.
Albums
2004: Cheap
2006: Dog House Music
2008: I Started Out With Nothin and I Still Got Most of it Left
2009: Man From Another Time
2010: Songs for Elisabeth
2011: You Can't Teach an Old Dog New Tricks
2012: Hubcap Music
2015: Sonic Soul Surfer
2016: Keepin' The Horse Between Me and The Ground
2018: Can U Cook?
2020: Love and Peace
Blues is a musical genre known as the folklore of African-American musicians. Its origins are associated with the southern states of the USA, that is the region conventionally called the "deep south". The very name of the genre (sadness, despair) is related to its nostalgic form, also in the textual layer. Blues pieces touch male-female relationships as well as feelings and emotions (love, loneliness, faithfulness, jealousy). However, blues performers often sing about freedom, work and travel. The songs also feature social criticism relating mainly to racial inequality and political issues.
Many artists are inspired by blues music and combine it with other styles. In this way, such musical mergers as punk blues, soul blues or blues rock. The popularity of this genre in the USA has led to the emergence of regional varieties, such as Louisiana, New Orleans, Texas and Detroit blues. There are also factions characteristic of other countries – British blues and African blues.