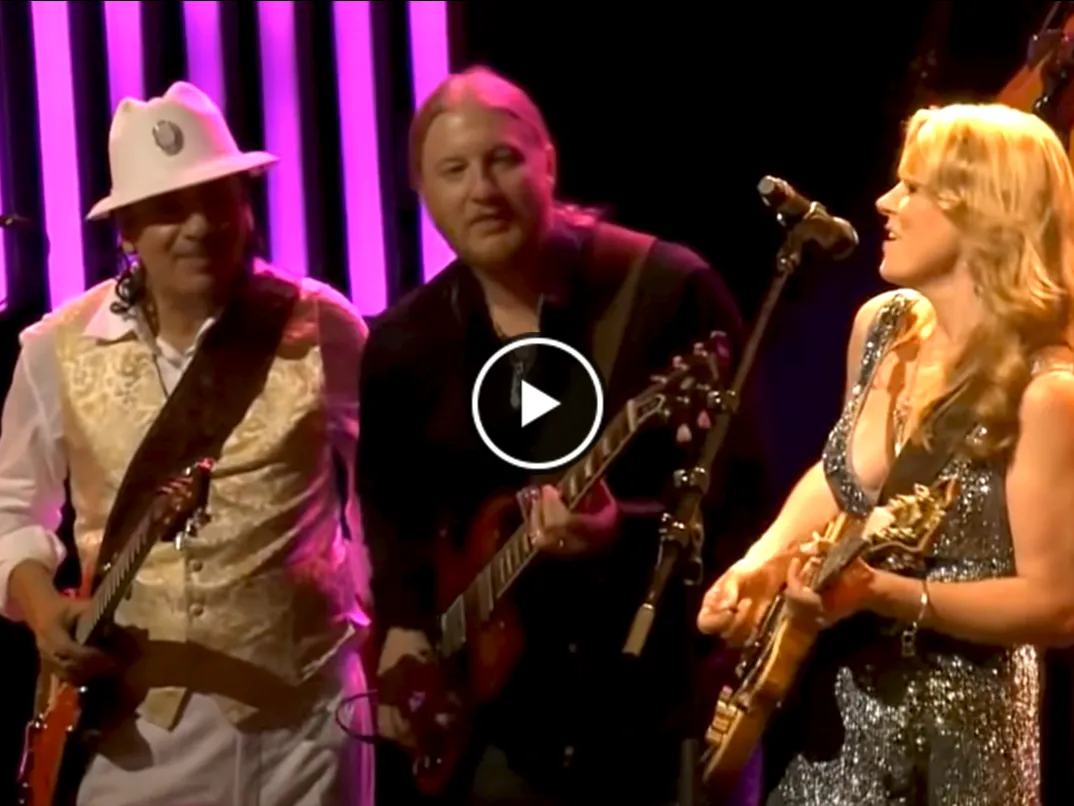 The Electrifying Fusion: "Make Somebody Happy" at Santana 's "Live in Montreux" Featuring Susan Tedeschi and Derek Trucks
When a song becomes more than just a composition, evolving into an emotion, an atmosphere, or an entire mood, it's evident that there's magic happening. This is precisely what transpired at Santana's "Live in Montreux" concert when the legendary Carlos Santana joined forces with the phenomenal Susan Tedeschi and Derek Trucks to deliver an unforgettable rendition of "Make Somebody Happy."
Santana: The Eternal Guitar Maestro
Carlos Santana, whose illustrious career spans over five decades, is best known for his unique fusion of rock, Latin American jazz, and blues. From "Black Magic Woman" to "Smooth," Santana's wide-ranging repertoire showcases not only his extraordinary guitar-playing abilities but also his knack for blending various genres in a seamless manner.
Derek Trucks: The Slide Prodigy
Derek Trucks, known for his formidable slide guitar technique, began his musical journey at an incredibly young age. He had already performed alongside the likes of Buddy Guy and Bob Dylan before he turned 20. A key member of the Allman Brothers Band, Trucks co-leads the Tedeschi Trucks Band with his equally talented wife, Susan Tedeschi.
Susan Tedeschi: The Soulful Songstress
With a voice that effortlessly oscillates between raw power and subtle tenderness, Susan Tedeschi is a force to be reckoned with. Her musical journey, deeply rooted in gospel-infused blues, led her to several Grammy nominations even before she teamed up with Trucks to form the Tedeschi Trucks Band. Together, they've become one of the most revered power couples in contemporary blues.
"Make Somebody Happy": A Mesmerizing Collaboration
At the Montreux concert, the trio breathed a fresh life into "Make Somebody Happy." Santana's trademark guitar tone perfectly complemented the earthy, profound sound of Trucks' slide guitar. Tedeschi's soul-stirring vocals added a layer of depth and emotion to the performance, making it a song not just for the ears, but for the heart.
What made this collaboration even more memorable was the evident chemistry between the artists. There was a silent, almost palpable conversation occurring between Santana and Trucks, their guitars intertwining in a harmonious dance. Tedeschi's voice served as the powerful bridge, connecting the passionate instrumentals with the deep-seated emotions of the audience.
Music, when created with genuine emotion and passion, transcends mere sound waves. The rendition of "Make Somebody Happy" at Santana's "Live in Montreux" concert epitomized this. With Carlos Santana's legendary guitar prowess, Derek Trucks' slide mastery, and Susan Tedeschi's heart-rending vocals, the performance was not just a treat for blues aficionados but for anyone who cherishes artistry at its best.