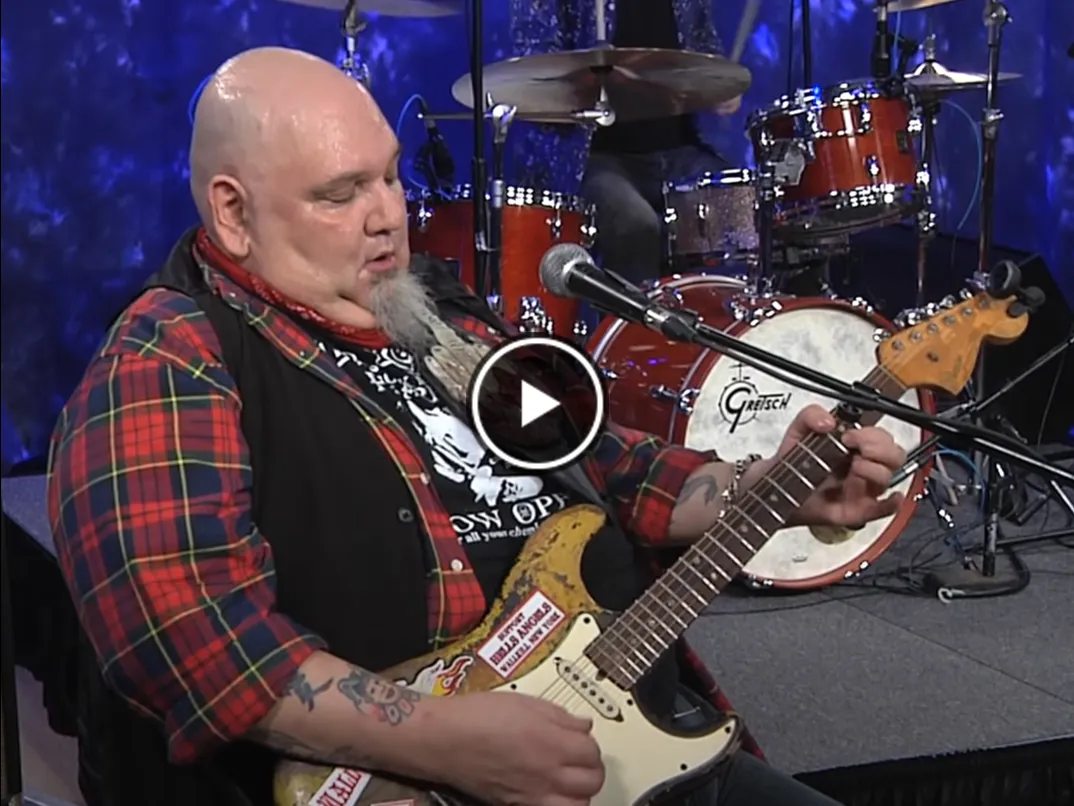 Popa Chubby
Theodore Joseph "Ted" Horowitz (born March 31, 1960, in The Bronx, New York City, United States). He plays under the stage name of Popa Chubby (a play on the slang idiom "pop a chubby", meaning to get an erection). Popa is an American electric blues singer, songwriter, and guitarist.
At age thirteen Horowitz began playing drums; shortly thereafter, he began listening to the music of the Rolling Stones and started playing guitar. Although he grew up in the 1970s, Horowitz was influenced by artists of the 1960s. For example Jimi Hendrix and Cream, among others. In his early twenties, although he mainly played blues music, he also worked as backing for punk rock poet Richard Hell. Horowitz first came to public attention after winning a national blues talent search sponsored by KLON, a public radio station in Long Beach, California, which is now known as KKJZ. He won the New Artist of the Year award and as a result, was chosen as the opening act at the Long Beach Blues Festival in 1992.
Horowitz played more than 200 club dates a year through the 1990s. His Sony/Okeh debut, Booty and the Beast was produced by Atlantic Records engineer/producer Tom Dowd. Tom worked on recordings for artists such as Aretha Franklin, Ray Charles, and Wilson Pickett.
His career has always been about moving forward and carving a place for himself in the imposing terrain of the music business, overcoming odds to continue growing and maturing as a creative force.
(source: wikipedia.org)
Albums
The First Cuts (a collection of early material)
The Hungry Years (another collection of early material)
1994: It's Chubby Time
1994: Gas Money
1995: Booty and the Beast
1996: Hit the High Hard One – Live
1998: One Million Broken Guitars
1999: Brooklyn Basement Blues
1999: One Night Live In New York City
2000: How'd a White Boy Get the Blues?
2001: Flashed Back (feat. Galea)
2001: The Good, the Bad and the Chubby
2002: Live at FIP
2003: Old School: Popa Chubby & Friends Play Muddy, Willie and More
2003: Peace, Love & Respect
2004: Wild Live!
2005: Big Man, Big Guitar: Popa Chubby Live – compilation
2006: Stealing the Devil's Guitar
2006: Electric Chubbyland (3-CD box set)
2008: Deliveries After Dark
2008: Vicious Country (feat. Galea)
2009: The Fight Is On
2011: Back to New York City
2013: Universal Breakdown Blues
2014: I'm Feelin' Lucky: The Blues According to Popa Chubby
2015: Big, Bad and Beautiful – Live (2-CD set)
2016: The Catfish
2017: Two Dogs
2018: Prime Cuts
2020: It's a Mighty Hard Road