Playing For Change gets you "rocked to your soul" with the "sweet" sounds of the blues classic, "Queen Bee," by legendary musician, Taj Mahal.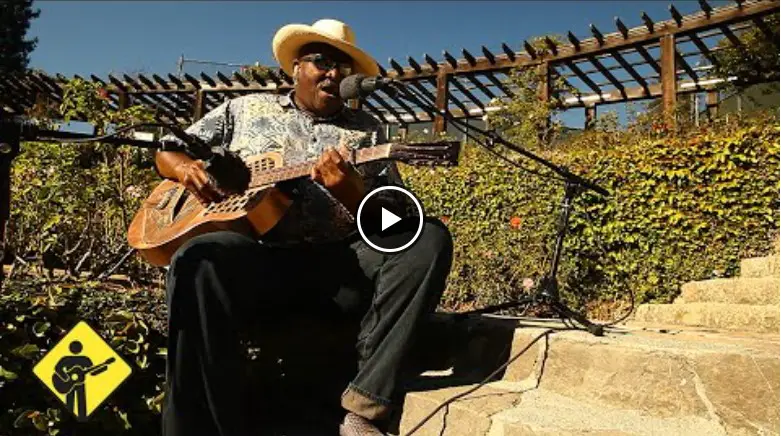 "Queen Bee" is a soulful single from Taj Mahal's 1997 studio album, Señor Blues, which won a GRAMMY for Best Contemporary Blues Album. Enjoy this Song Around The World version, featuring Ben Harper, Rosanne Cash, Paula Fuga and over 20 musicians from six countries.
"Queen Bee" written by Taj Mahal
FEATURING:
Ayano Uema: Sanshin
Bassekou Kouyate: Ngoni
Ben Harper: Vocals, Guitar
Carlos Miyares: Saxophone
Jake Shimabukuro: Ukulele
Joe Sublett (The Phantom Blues Band): Saxophone
Johnny Lee Schell (The Phantom Blues Band): Electric Guitar
Jon Cleary (The Phantom Blues Band): Piano
Larry Fulcher (The Phantom Blues Band): Bass
Les Lovitt (The Phantom Blues Band): Trumpet
"Lopaka" Colon Jr.: Percussion
Louis Mhlanga: Guitar
Mamadou Diabaté: Kora
Pancho Amat: Tres
Paula Fuga: Vocals
Roberto Luti: Slide Guitar
Rosanne Cash: Vocals
Safi Diabaté: Vocals
Taj Mahal: Vocals, Guitar
Tony Braunagel (The Phantom Blues Band): Drums
Yu Hatakeyama: Percussion
MORE ABOUT TAJ MAHAL:
Taj Mahal
Born in Harlem, New York but raised in Springfield, Massachusetts. His father was a jazz pianist, composer, arranger hailing from Jamaica, while his mother was a teacher who sang gospel. She came from North Carolina. His grandfather married a woman from Saint Kitts.
He studied agriculture at the University of Massachusetts Amherst in the early 1960s, graduating in 1964. (The same university awarded him the honorary title of Doctor of Fine Arts in 2006). There he founded Taj Mahal & Elektras. The name Taj Mahal was inspired by a dream.
After college, he moved to Los Angeles and founded the Rising Sons group with Ry Cooder in 1964. The band signed with Columbia Records and released a single and recorded an album that was not released by Columbia until 1992. Taj, frustrated by mixed feelings about his music, left the band and began a solo career. Still, with Columbia Records, he released an album of his own name in 1968, building on his success, he released a second Natch'l Blues the same year. The Giant Step two-track set released in 1969 resulted in Taj's strong position as an American blues artist, and the title track has become iconic and is still popular with current audiences. Most memorable, however, was the performance of Cooder and Taj at The Rolling Stones Rock and Roll Circus.
His music comes from various sources: blues, cajun, gospel, bluegrass, Hawaiian, African, and Caribbean musical traditions. It sticks to the roots and adds a little bit of its own feeling. Plays many musical instruments.
He has received two Grammy Awards for Best Contemporary Blues Album, the first in 1997 for Señor Blues and the second in 2000 for Shoutin 'In Key.
He has made soundtracks for many films, including Sounder and Blues Brothers 2000, in which he also appeared.
In 2006, he guest-starred on electric guitar with Ladysmith Black Mambazo while recording the album Long Walk to Freedom
In 2013 he supported Hugh Laurie vocally on the album Didn't It Rain, in the song "Vicksburg Blues".
Playing For Change
Playing For Change (PFC) is a Certified B Corp (Social Purpose Organization) created to inspire and connect the world through music, born from the shared belief that music has the power to break down boundaries and overcome distances between people. The primary focus of PFC is to record and film musicians performing in their natural environments and combine their talents and cultural power in innovative videos called Songs Around The World. Creating these videos motivated PFC to form the Playing For Change Band—a tangible, traveling representation of its mission, featuring musicians met along their journey; and establish the Playing For Change Foundation—a separate 501(c)3 nonprofit organization dedicated to supporting music programs for children around the world. Through these efforts, Playing For Change aims to create hope and inspiration for the future of our planet. To learn more, visit https://playingforchange.com
To learn more about the work of the PFC Foundation, visit http://www.playingforchange.org