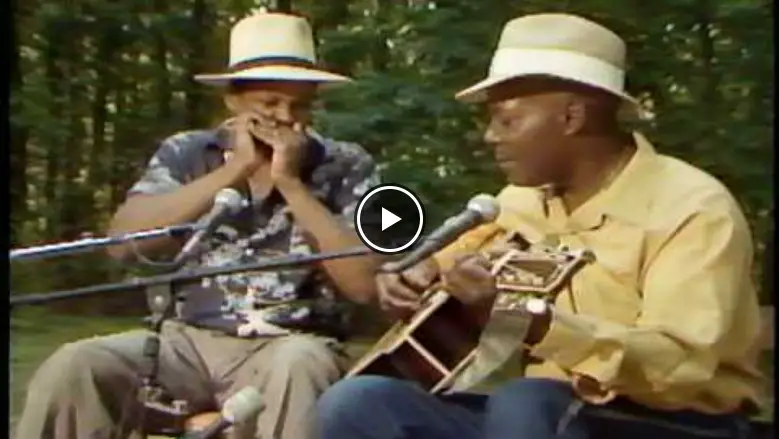 Tidewater Virginia blues musicians – guitarist John Cephas and harmonica player Phil Wiggins – play a version of Richmond Blues (circa 1989). Video is courtesy of Houseparty Productions, Takoma Park, Maryland.
John Cephas and Phil Wiggins
Cephas and Wiggins were known for playing acoustic Piedmont blues. This kind of blues is not as much celebrated as raw Delta Blues of Mississipi or electric Chicago Blues. Piedmont blues is jaunty and melodic, often with elements of ragtime and complex fingerpicking.
Cephas and Wiggins were both born in Washington D.C. They first met at a jam session at the Smithsonian's Festival of American Folklife in 1976 and played together in Wilbert "Big Chief" Ellis's band. When Ellis died, they decided to continue as a duo.
Their first U.S. release, the album Dog Days of August, was issued by Flying Fish Records in 1986. Two more albums followed from Flying Fish. After they left the label, they released one album for the New York-based Chesky Records and four albums for Alligator Records. They released the album Richmond Blues on Folkways Records in 2008.
Until the late 1980s, Cephas made his primary living from carpentry, playing music on the side. In the 1990s, he became a professional musician, sometimes earning money by teaching classes and workshops.
(source:https://en.wikipedia.org/wiki/Cephas_%26_Wiggins)