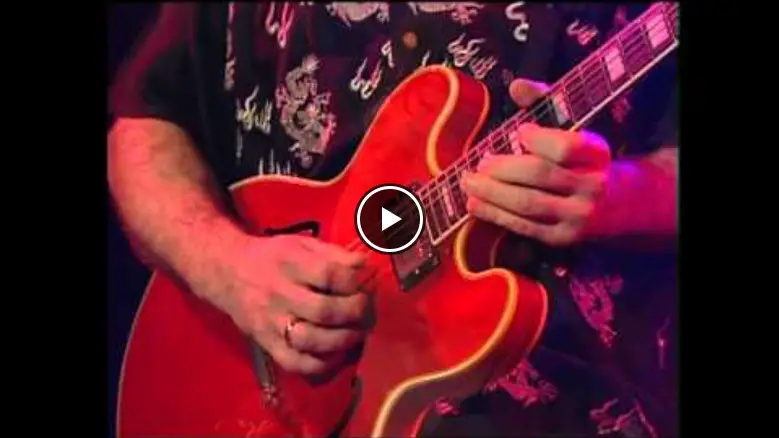 Gary Moore
An outstanding composer, guitarist, and singer of blues and rock. He is known mainly for his unique, highly emotional style of playing the guitar. The perfect technical mastery of the instrument.
Gary Moore was born April 4, 1952, in Belfast, Northern Ireland. He began his career in the second half of the 60s. Inspired by the works of contemporary blues-rock guitarists  Jimi Hendrix and John Mayall. He spread his wings as a guitarist of the Irish group Skid Row. That's when he was spotted by his idol, Peter Green of Fleetwood Mac, who helped the group to sign a contract with a major label and gave Gary one of his favorite guitars 1959 Gibson Les Paul. After years Moore played this guitar on the entire album with compositions of his idol, "Blues for Greeny."
Solo career
The 70s are for Moore's a very busy time. Solo career began by issuing in 1973 the album "Grinding Stone". He also participated in many side projects. He played mainly in Thin Lizzy and progress rock project Colosseum II. At the end of the decade, and by the entire 80s seriously took up a solo career releasing during this period 7 albums and leaving behind such classics as "Parisienne Walkway's", "After The War" and "Over the Hills and Far Away". In the 80s his style departed somewhat from blues to hard rock and soft metal, but in 1990, he reminded himself as a blues guitarist releasing his most famous album "Still Got The Blues". This release, featured Albert Collins, Albert King, George Harrison.
Blues accompanied guitarist on subsequent albums "After Hours" and "Blues for Greeny." At the turn of the century Gary Moore experimented with new sounds, however, they issued these style albums that were not too well received by fans and critics here in 2001 again returned to the blues album "Back to the Blues." His beloved music remained faithful until the end of his career.
He died on 6 February 2011, of a heart attack in his sleep. It was during his holiday in the Spanish town of Estepona.
Our quality blues t-shirts are perfect for your next music festival, concert or jam, and make great gifts.