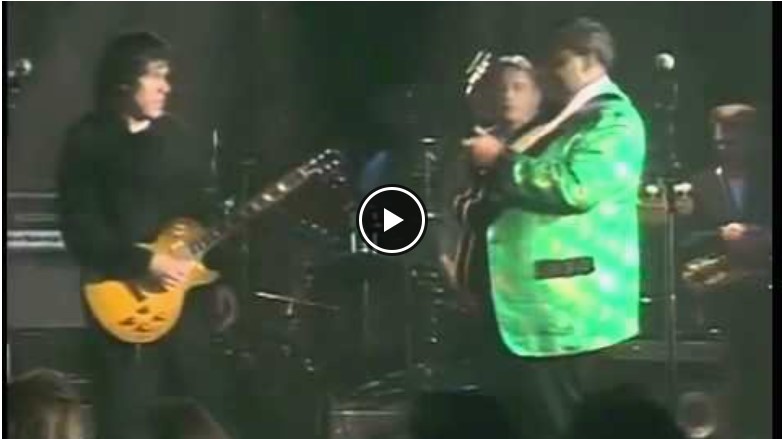 Gary Moore hosts B.B. King in one unforgettable guitars dialogue. As long as we can still see this video, the two kings are still with us.
B.B. King
One of the most important guitarists and vocalists of the genre, not without reason, being nicknamed "King of the Blues." He was actually named Rile B. King and was born on September 16, 1925, in Indianola, USA.
Stage performances began in 1946 in Memphis. During the first years of his career, he worked, among others. as a singer at a local radio station playing rhythm & blues and as a DJ. At the same time, he acquired his artistic nickname "B.B." which is a shortened version of "Beale Street Blues Boy".
The beginnings of the career were not the easiest – the best times for the artist only came in the 1950s. Then B.B. King has become one of the most important rhythm & blues performers with a series of big hits including "Woke Up This Morning," "Every Day I Have the Blues," "Bad Luck," "You Upset Me Baby," and "Sweet Little Angel. ".
Gary Moore
An outstanding composer, guitarist, and singer of blues and rock. He is known mainly for his unique, highly emotional style of playing the guitar. The perfect technical mastery of the instrument.
Gary Moore was born April 4, 1952, in Belfast, Northern Ireland. He began his career in the second half of the 60s. Inspired by the works of contemporary blues-rock guitarists  Jimi Hendrix and John Mayall. He spread his wings as a guitarist of the Irish group Skid Row. That's when he was spotted by his idol, Peter Green of Fleetwood Mac, who helped the group to sign a contract with a major label and gave Gary one of his favorite guitars 1959 Gibson Les Paul. After years Moore played this guitar on the entire album with compositions of his idol, "Blues for Greeny."