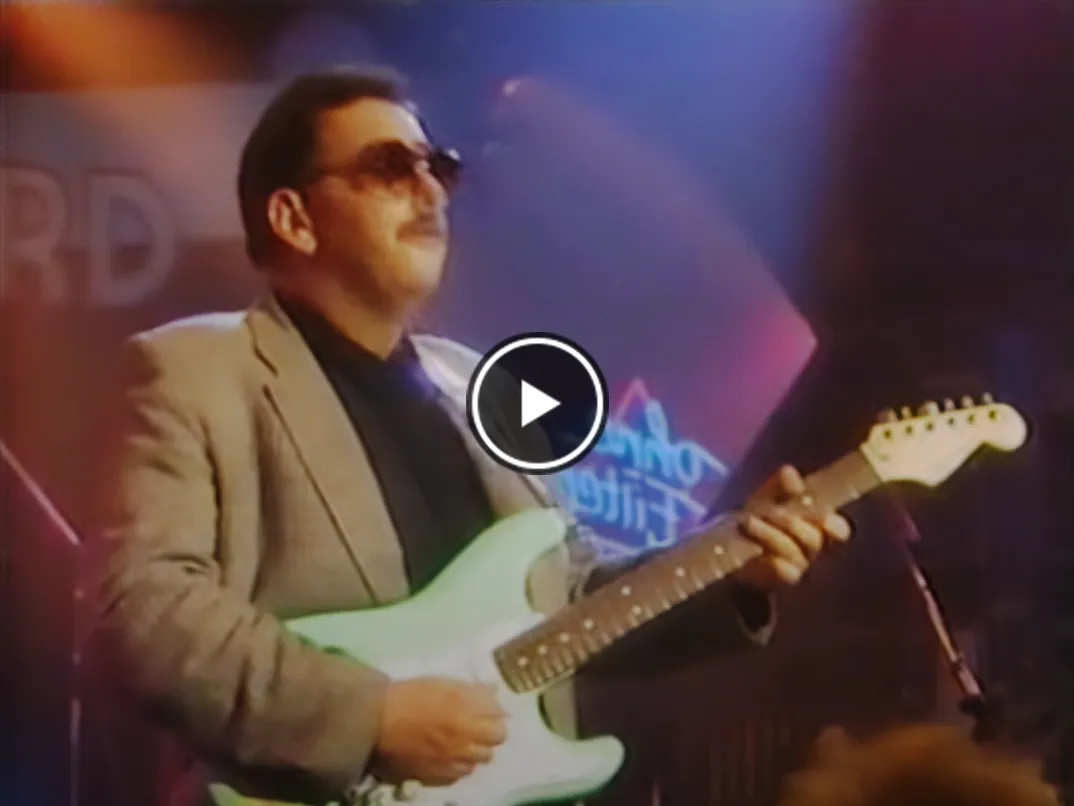 Duke Robillard
Blues-rock musician and bandleader who in 1967 co-founded the blues and swing revival group Roomful of Blues. He would depart from the group in 1979 to perform with Robert Gordon as well as his out outfits. In 1990 he replaced Jimmie Vaughan as the guitarist of The Fabulous Thunderbirds and continued to perform as a solo artist. He has toured with both Tom Waits and Bob Dylan and recorded with the likes of Pinetop Perkins, Snooky Pryor, Jimmy Witherspoon, and Ronnie Earl.
In his style are many pure blues. It is a combination of many varieties – early rhythm and blues, from the 1940s and 1950s, a bit of Chicago and Texan blues, but also quite a lot of swing music, swinging jazz.
He loves the way jazzmen interpreted blues in the 1930s and 1940s, and you can hear that in the style of Duke Robillard. It is a combination of different species. There is also a bit of rock and roll in his music. He grew up in the 1950s and when he started playing, rock and roll was the most popular and made the biggest impression on him. When he plays he uses various inspirations.
Albums
Duke Robillard & the Pleasure Kings (1984) (Rounder)
Too Hot to Handle (1985) (Rounder)
Swing (1987) (Rounder)
You Got Me (1988) (Rounder)
Rockin' Blues (1988) (Rounder) compilation
After Hours Swing Session (1990) (Rounder)
Turn it Around (1991) (Rounder)
Temptation (1994) (Point Blank)
Duke's Blues (1996) (Point Blank)
Dangerous Place (1997) (Point Blank)
Stretchin' Out Live (1998) (Stony Plain)
New Blues for Modern Man (1999) (Shanachie)
La Palette Bleue (1999) (Dixie Frog)
Conversations in Swing Guitar with Herb Ellis (1999) (Stony Plain)
Explorer (2000) (Shanachie)
Living with the Blues (2002) (Stony Plain)
More Conversations In Swing Guitar with Herb Ellis (2003) (Stony Plain)
Exalted Lover (2003) (Stony Plain)
Blue Mood: The Songs of T-Bone Walker (2004) (Stony Plain)
The Duke Meets the Earl with Ronnie Earl (2005) (Stony Plain)
Guitar Groove-a-Rama (2006) (Stony Plain)
Duke Robillard's World of Blues (2007) (Stony Plain)
A Swingin' Session with Duke Robillard (2008) (Stony Plain)
Stomp! The Blues Tonight (2009) (Stony Plain)
Tales from the Tiki Lounge with Sunny Crownover (2010) (Blue Duchess)[6]
Passport to the Blues (2010) (Stony Plain)
Low Down and Tore Up (2011) (Stony Plain)
Wobble Walkin' (2012) (Blue Duchess)
Independently Blue (2013) (Stony Plain)
Calling All Blues (2014) (Stony Plain)
The Acoustic Blues & Roots of Duke Robillard (2015) (Stony Plain)
Blues Full Circle (2016) (Stony Plain)
Duke Robillard and His Dames of Rhythm (2017) (M.C. Records)
Ear Worms (2019) (Stony Plain)
Blues Bash! (2020) (Stony Plain)
Swingin' Again with Scott Hamilton (2021) (Blue Duchess)
They Called It Rhythm & Blues (2022) (Stony Plain)