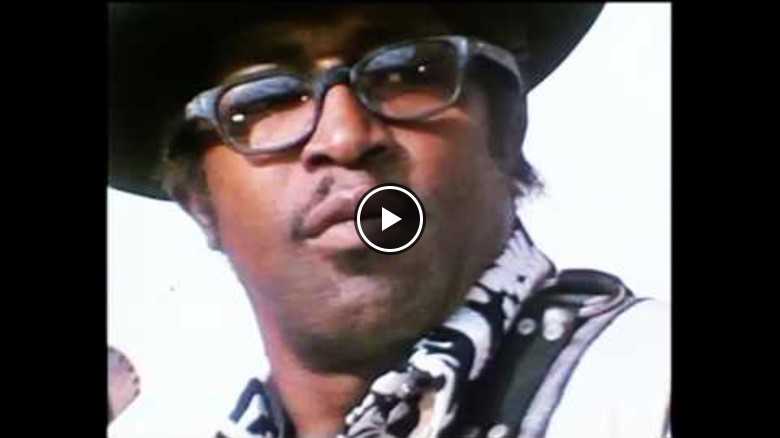 Bo Diddley
Ellas Otha Bates McDaniel aka Bo Diddley (born December 30, 1928 in McComb – died June 2, 2008 in Archer, Florida) – African-American musician, singer, violinist and guitarist associated with such genres as electric blues, rock and roll and rhythm and blues. He has only a few hits to his credit, but his contribution to the development of rock-and-roll cannot be overestimated. He was the one who defined the role of the rhythm section. Most of the rhythmic patterns used in rock today are derived from him. His guitar technique was also ahead of its time. He used custom-made guitars with a rectangular body. The sound of the guitar, amplified by heavily distorted amplifiers, resembled the sounds of Jimi Hendrix ten years later.
In 1987, Bo Diddley was inducted into the Rock and Roll Hall of Fame.
Elvis had the look, Little Richard had the scream– however, it was Diddley who had the necessary beat.
March marks the 60th anniversary of Diddley's self-titled launching single, which introduced the world to the extremely influential Bo Diddley beat. This downing rhythm was affected by sub-Saharan music and injected into the blues to create not only a trademark sound for Diddley himself but however also to offer the backbone of rock 'n' roll for decades afterward.
Among the many legends who might be said to have invented rock'n'roll, few have a greater claim than Bo Diddley. The tough-talking, Mississippi-born guitar-singer had the singular distinction of having personally invented a wholly original rhythmic tempo, a style that in time would be appropriated by everyone from Elvis Presley and Buddy Holly to the Rolling Stones and The Who, and from Bruce Springsteen to U2, not to mention just about every fledgling guitarist who's managed to master a single chord.
Diddley passed away in 2008, however, the beat most definitely goes on.