Alvin Lee
Alvin Lee began playing guitar at the age of 13. In 1960, Lee along with Leo Lyons formed the core of the band Ten Years After. Influenced by his parent's collection of jazz and blues records, it was the advent of rock and roll that sparked his interest.
Lee's efficiency at the Woodstock Festival was photographed in the docudrama of the event. His 'lightning-fast' having fun aided catapult him to fame. Soon the band was playing industries and stadiums around the world. The movie brought Lee's songs to a global target market. Although he later lamented that he missed the lost liberty as well as the spiritual devotion to his earlier public.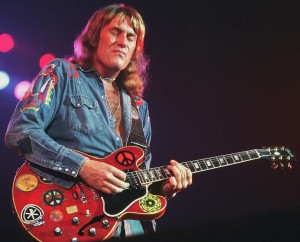 Lee was named "the Fastest guitarist in the West". Also thought about a precursor to shred-style having fun that would certainly create in the 1980s.
Ten Years After had success, launching ten cds together, yet by 1973, Lee was feeling restricted by the band's design.
Moving to Columbia Records had led to a radio struck track, "I 'd Love To Change the World". However, Lee favored blues-rock to the pop to which the label guided them. He left the group after their second Columbia LP. With American Christian rock leader Mylon LeFevre, along with visitors George Harrison, Steve Winwood, Ronnie Wood as well as Mick Fleetwood, he tape-recorded and launched On the Road to Freedom, a well-known album that went to the forefront of country-rock. Additionally, in 1973 he attended the Jerry Lee Lewis dual album The Session … Recorded in London with Great Artists videotaped in London showcasing several other guest stars consisting of Albert Lee, Peter Frampton, and Rory Gallagher.
Alvin & Company
A year later on, in reaction to an attempt, Lee developed Alvin Lee & Company to play a program at the Rainbow in London and even released it as a double live cd, In Flight. Various participants of the band continued with Lee for his next two CDs, Pump Iron! and even Let It Rock. In late 1975, he played guitar for a number of tracks on Bo Diddley's The 20th Anniversary of Rock 'n' Roll all-star album.
He finished out the 1970s with an album called "Ten Years Later", with Tom Compton on drums and also Mick Hawksworth on bass, which released two CDs, Rocket Fuel (1978) and Ride On (1979), and also toured extensively throughout Europe as well as the United States.
The 1980s brought another adjustment in Lee's instructions, with 2 CDs that were cooperations with Rare Bird's Steve Gould, and even an excursion with the former John Mayall and even Rolling Stones' guitarist Mick Taylor joining his band.
Lee's total musical outcome includes greater than twenty CDs, including 1987's Detroit Diesel, 1989's About Time (Ten Years After album), videotaped in Memphis with manufacturer Terry Manning, and the back to back 1990s collections of Zoom and Nineteen Ninety-Four (US title I Hear You Rockin' ). Visitor artists on both CDs included George Harrison.
In Tennessee, tape-recorded with Scotty Moore as well as D. J. Fontana, was released in 2004. Lee's last album, Still on the Road to Freedom, was released in September 2012.
Also worth attention is the version of this song recorded in 1975 during a live performance at Winterland.

We appreciate your time and dedication to reading our article. For more of the finest blues guitar music, make sure to follow our Facebook page, "I Love Blues Guitar". We share exceptional selections every day. Thank you once again for your continued support and readership.